President Obama took a swipe at members of Congress early in his State of the Union speech Tuesday night. "It's not much of a stretch to say that some of the only people in America who are going to work the same job, in the same place, with a health and retirement package, for 30 years, are sitting in this chamber," Obama said, contrasting that relative security with the lack of benefits and economic protections other Americans face in the current economy.
Yet as Phillip Bump points out at The Washington Post, slightly less than 7 percent of Congress has tenure of 30 years or more. Still, if Obama's broader point was about stability and job security, members of Congress do have an edge over average Americans. The median tenure of a member of Congress is more than 12 years, compared to a median of 4.6 years for "wage and salary workers" tracked by the Bureau of Labor Statistics, up from 4.1 years as of January 2008 and 3.5 years as of 1983. About 29 percent of workers had been at their jobs for 10 years or more as of January 2014, while 33 percent had been with their employer for two years or less.
Related: U.S. Companies Are Dying Faster Than Ever​​
The increase in worker tenure in recent decades may actually be a sign of a stagnant, troubled job market, one in which employees have been clinging to their jobs rather than seeking out better opportunities.
Economists, including Fed Chair Janet Yellen, watch for signs of churn as an indication of the health of the labor market. On that front, the Job Openings and Labor Turnover Survey for November, released this week by the Bureau of Labor Statistics, showed some encouraging developments. For example, the ratio of quits to total separations including layoffs and retirements — what market strategist at brokerage Convergex refer to as the "take this job and shove it indicator" — rose to 57.4 percent, and the number of people quitting their jobs climbed 6.3 percent over the November 2014 levels.
If we're looking at the state of work in the current economy, it's also worth noting that CEO tenure has increased in recent years, according to a recent study by Equilar. Despite a pickup of merger and acquisition activity and ramped up pressure from activist investors — trends that might be expected to increase turnover among top executives — Equilar found that the median tenure of an S&P 500 CEO in 2014 was 6 years, up from 5.2 years in 2005.
Related: 10 CEOs Who Make Way, Way, WAY More Than Their Workers​​
"Though counterintuitive to some market trends, there is one simple explanation for the rising average: There is a collection of long-standing CEOs at the top of the list," Equilar's analysts explained on the company's blog. "In 2014, there were 142 CEOs who had served their companies longer than 10 years. Ten years ago, there were only 94 who had such a distinction."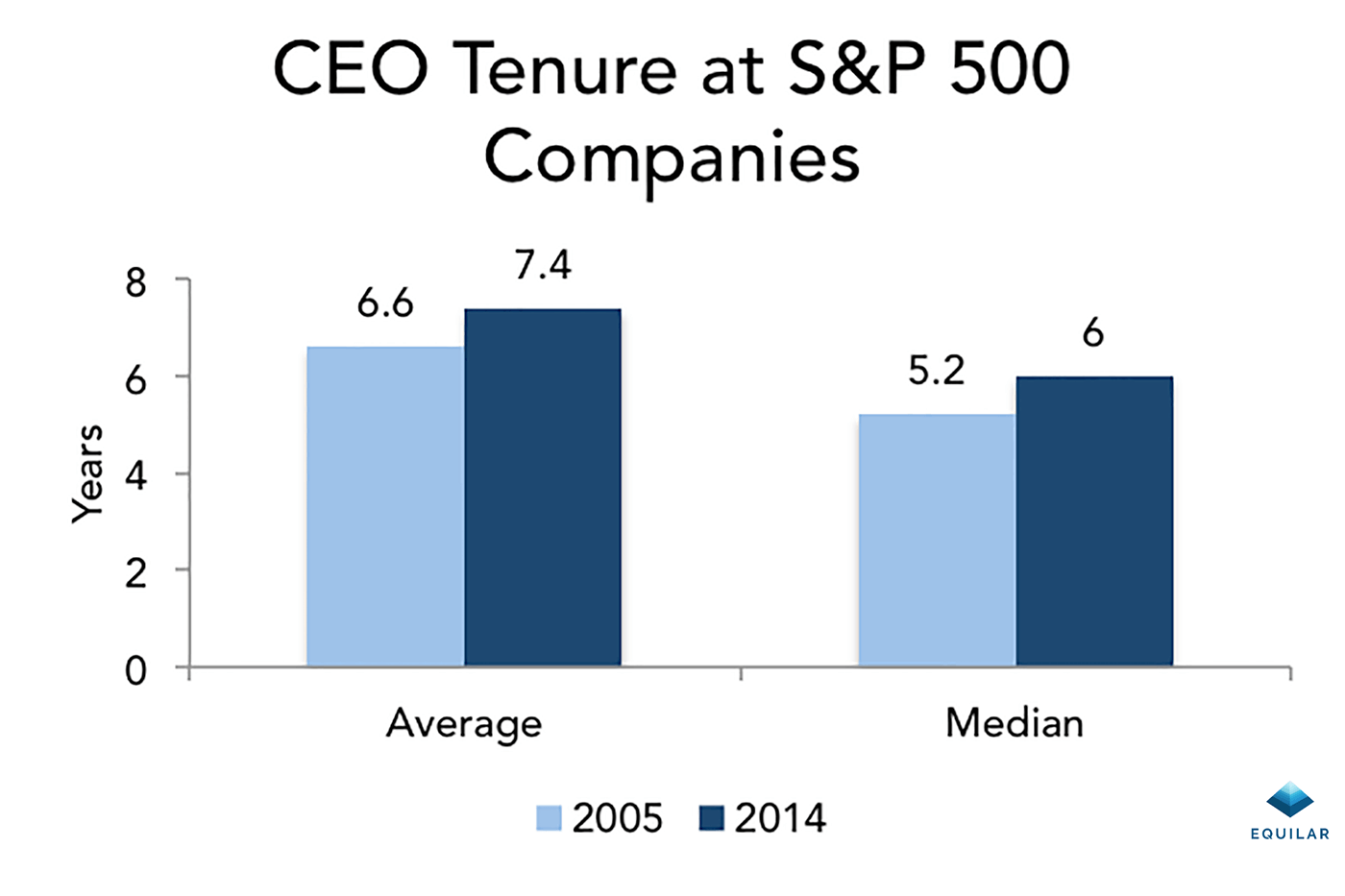 Obama may have been off in using 30 years as a measure, but his basic point still holds: When it comes to job security, Congress has it good compared with average Americans — and even CEOs.